Operating under our Breeze brand, we have three unmanned filling stations, which are open 24 hours a day. Fill up, pay instantly and be back out on the road again, all at a time that suits you!
We have three such filling stations, located at:
Swindon
Holmer Green
Heathrow
Our stations at Swindon and Holmer Green take card payments only. Meanwhile, our station at Heathrow is purpose-built, and accepts both cards and cash – perfect if you've just returned from holiday and need to fill up the car quickly to get home, or if you're a cabbie with an empty tank and plenty of cash from previous fares.
Whichever of our three Breeze stations you decide to visit, take advantage of our competitive rates, fuss-free filling, and the fact that we're available 24 hours a day!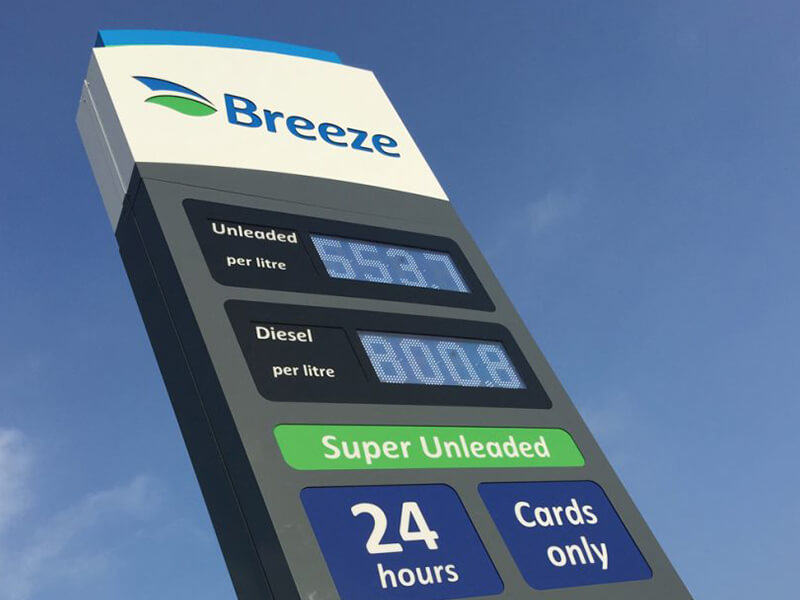 Becoming a dealer
Time for change?
We have an established and thriving network of dealers across the UK who share our passion for high quality customer service and an exemplary retail experience on our forecourts.
As a direct importer and leading supplier of fuel, we can be flexible, competitive and guarantee delivery with no hidden costs and no complicated contracts. Our strong customer centric approach is what differentiates us from the competition. We tailor our services around you and strive to understand both your business and your aspirations. By bringing our local and global knowledge and resources to your forecourt, your customers will soon realise that you are part of a vibrant brand!
Partnering with Harvest Energy means you acquire a quality fuel product, access to a fuel card loyalty programme, and a pro-active customer service scheme to help drive business growth. With over two decades in the fuel industry, we are established enough to drive revenue, but still small enough to care about your business. We want to grow with you, and we want you to succeed!
As one of the UK's largest independent suppliers and blenders of motor fuels, we have both the knowledge and the infrastructure set in place to support you and supply you with premium quality fuels. Using the latest technology, we can provide real-time updates and share traffic intelligence to ensure your delivery arrives on time.
With over 150 Harvest Energy sites (and counting), we consistently help you to drive business growth, by:
Having a strong relationship with each of our sites, their owners and their teams
Delivering a strong and trusted brand image, with full branding provided at your site
Taking pride in our brand (we provide full forecourt cleaning once a year)
Providing pump and EPOS maintenance, tank cleaning and product testing
Understanding that you need a supplier who thinks ahead and rapidly responds to your changing needs
Providing every dealer with a branded company uniform
Helping you to run safe and reliable operations
Keeping our focus on understanding what is important to your customers, your business and your success