Harvest Energy, a member of the Prax Group, will open the first TOTAL-branded service station in Thirsk, North Yorkshire, on 20th December 2019. This follows a Fuel Network Agreement between Total and Harvest Energy.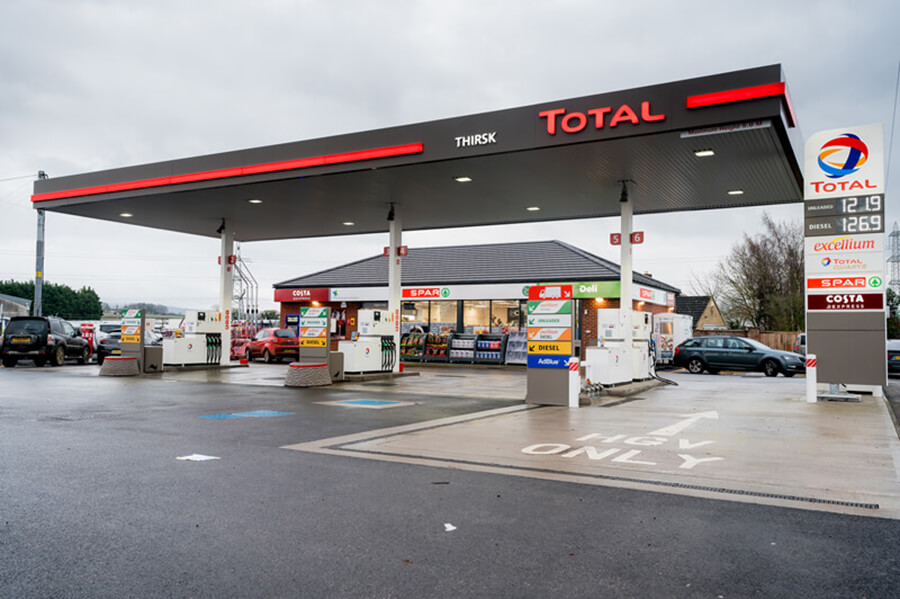 The agreement allows Harvest Energy to develop its network of service stations with the support and expertise of Total and to secure its fuels supply with further deployment continuing in 2020. The signing of this agreement represents a significant development for Total in the UK, having exited the fuel retail market in 2012. It is an opportunity for Harvest Energy to capitalise on the energy major's heritage and its strong brand recognition in the UK.
One of the main elements of a TOTAL-branded service station is its distinctive design. Environmentally friendly and constructed with recycled building materials and low energy LED lighting, the new forecourt building will welcome customers with its eco ethos and discreet design. Customers will also gain direct access to a wide range of branded products and services, including TOTAL EXCELLIUM premium fuels, TOTAL EUROTRAFIC® fuel cards, and TOTAL Lubricants products.
The features of the new facility will include temperature compensating pumps and electric vehicle charging points. Meanwhile, the SPAR store will benefit from a Daily Deli Kitchen, and a Costa Coffee Express. These features recognise the growing trend for the forecourt to serve as more than simply somewhere to get fuel. Time-poor consumers will be able to complete domestic top-up shops, or food-to-go or "food for later" missions that might otherwise be purchased elsewhere.
Looking ahead, the year 2020 will see Harvest Energy continue to innovate the sector through the offering afforded by this partnership (both to customers and to dealers), and through the environmental credentials that remain at the heart of both brands.